SOLFEGE & FOLKSONG
TERM 1 LESSON 8
The Closet Key
Review the Song, Solfege Practice
Lesson Overview:
Materials:
– "The Closet Key", 150 American Folk Songs (p. 2, #4)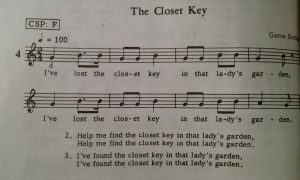 – Solfege Flash Cards from week 2
– Kodaly's 333 Reading exercises for Advanced Students (extension found at the bottom of this lesson)
From here on out we'll be continuing on with the same pattern of learning. One week we'll learn a new song and do the rhythm exercises, the following week we'll review the song and learn the solfege.
Prep:
Have your Advanced Student watch their video  (found at the end of this lesson)

Teacher may want to preview the videos prior to teaching with your kids so you know what to expect. Try looking ahead on Saturday or Sunday of the week you do each lesson!

If you haven't watched the

introductory videos

, please do!  It think they will really help you out!
Part One Activity: Review The Closet Key
Watch This video with your children review The Closet Key with my children.  Echo along with them. Words are in your orange book or above.
Part Two Activity: Solfege
Join us in this video with your solfege cards and help us figure out what solfege accompanies this song! Try to have your kids echo with my kids!   
Advanced extension –
Please watch this video to check yourself and see how you are doing with sight singing exercises 13-16.
This week's Lesson Assignment: Sight sing Exercises 17-19 on your own and come back next week to check yourself.